Excellent $1 Paranormal Romance + Fantasy Box Set Deal! 23 Books! Includes 4 USA Today Bestselling Authors in 1 Amazing Box Set – An Absolute Steal!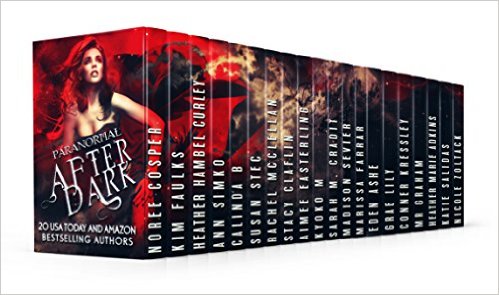 *Paranormal After Dark: 20 Paranormal Tales of Demons, Shifters, Werewolves, Vampires, Fae, Witches, Magics, Ghosts and More (Deal, Not Free) by Rebecca Hamilton, Noree Cosper, Kim Faulks, Heather Hambel Curley, Ann Simko, Calinda B., Susan Stec, Rachel McClellan, Stacy Claflin, Aimee Easterling, Kyoko M, Sarah M. Cradit, Madison Sevier, Marissa Farrar, Eden Ashe, Grae Lily, Conner Kressley, MR Graham, Heather Marie Adkins, Katie Salidas, Nicole Zoltack. Price: $0.99. Genre: Romance Box Set Deal of the Day, Sponsor, Some Adult Titles, USA Today Bestselling Authors, New Adult & College. Rated: 4.7 stars on 37 Reviews. 3038 pages. ASIN: B01ATSFB42. 23 NY Times Bestselling Authors. Reviewers love it: I can't recommend some of these books enough! At times, the beauty of the sentences had me weeping real tears! A great mix of stories that will give readers hours of entertainment! After reading these, it was as though I had gone to the movies, with the only thing missing being popcorn! Amazing stories in an incredible box set!
THE COMPLETE HOLIDAY ROMANCE SERIES: One Small Town, 6 Great Stories! by Robyn Grady. Price: Free. Genre: Holidays, Contemporary, Teen & Young Adult, Clean & Wholesome, Inspirational. Rated: 4.3 stars on 16 Reviews. 478 pages. ASIN: B018HFTKW8.